DIFC Data Protection Legislation
We are now able to train and support all UAE organisations in their requirements and obligations under the new DIFC Data Protection Legislation.
General Data Protection Regulation (GDPR) enforcement has begun in Europe.
You cannot afford insufficient GDPR compliance. As of July 2019, data protection regulators in Europe have determined over €360m (1.421m AED) in fines against wide-ranging types of organisations, affecting real estate management businesses, hotel chains, airlines, and IT companies to name but a few. There are more than 300,000 cases and complaints now pending with Regulators across the EU.
Do your policies, procedures prepare you, and are your staff sufficiently trained for operating in Europe ?
BLS Stay Compliant Ltd based in the UK are leading management data protection consultants supporting some of the UK's foremost organisations (i.e. Microsoft, Royal College of Physicians, Ministry of Defence Medical Services, EDF Energy, Health & Social Care Northern Ireland etc) with their Information Governance compliance.
With a sound senior government / public sector background, we are trusted to provide high level Data Protection Consultancy and Training to a wide variety of organisations from the UK's largest NHS trusts and hospitals to the foremost UK Universities and education providers, new app developers and leading Local Authorities and private companies working across Europe.
We have now opened a new office in Dubai.
If you are a UAE organisation operating in Europe we can help you to:
Understand your GDPR requirements for example carrying out an Independent, experts audit of your legal requirements which will lead to increased knowledge within your organisation)
Prepare you for the new Data Protection legal landscape to be implemented in Dubai
Recognise which legal provisions specifically apply to your organisation
Design a bespoke solution that meets European regulatory requirements and builds your customers' and patient's confidence
Act as your GDPR point of contact or DPO (data protection officer) that your organisation may lawfully be required to have access to
Avoid you significant financial penalties and loss of reputation from damaging publicity of any data breach
BE GDPR COMPLIANT
Free Guide:
UAE Organisations Operating in Europe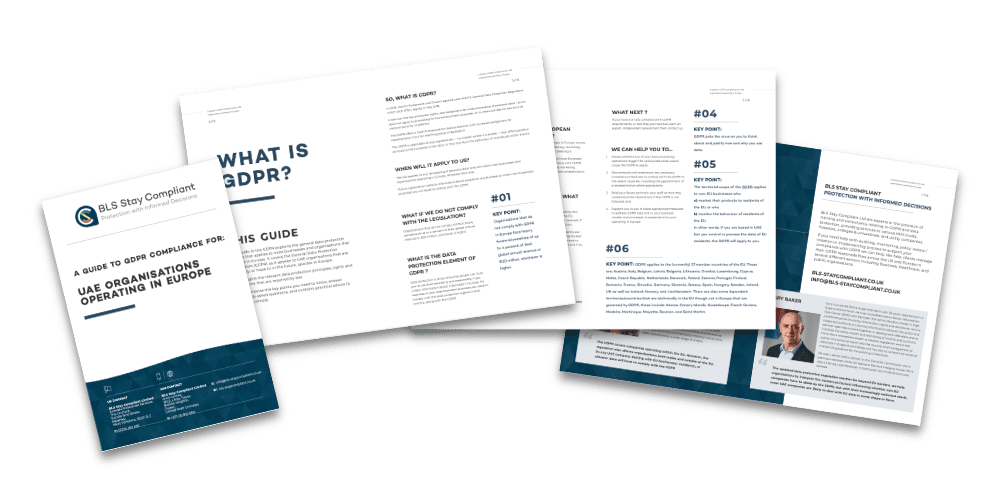 Simply complete the form to receive your free guide.
Local Contact: Aron Lomax
+971 50 814 5931
18C2, I-Rise Tower, Barsha Heights
Dubai, United Arab Emirates